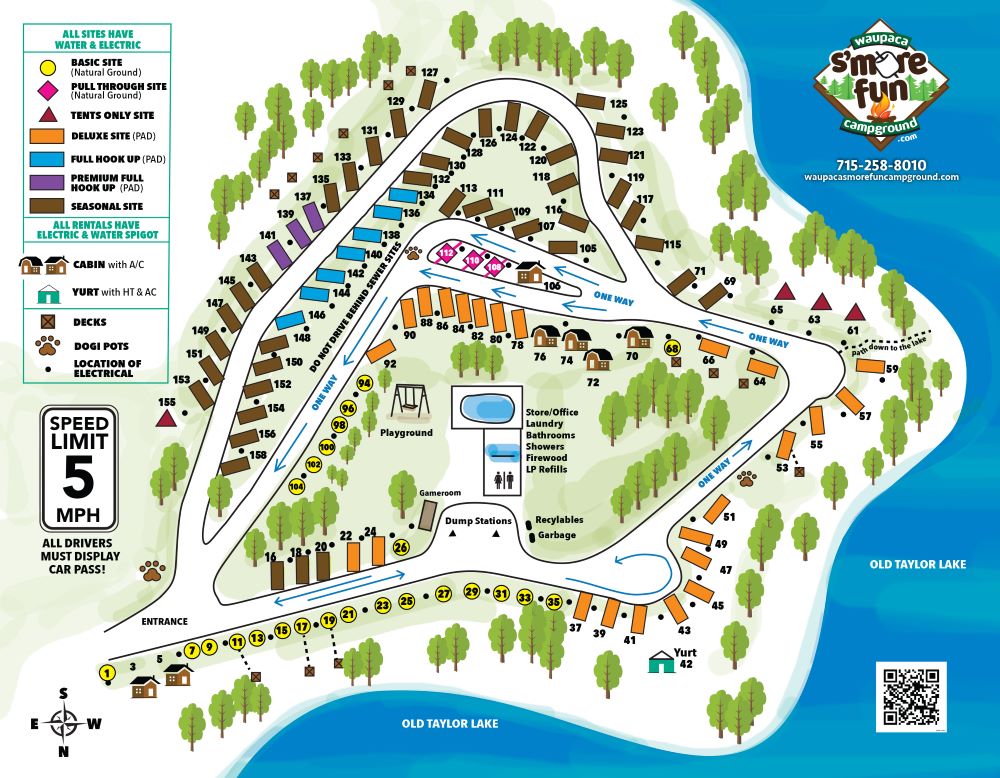 Smore Fun Campground in Waupaca
Campsites
All campsites have water and electricity. Many have large concrete pads (10' x 40' shown on the map above) that will help keep things clean in your camper. Some campsites also have decks that look out over the lake and/or wooded areas and offer great views.
The map above can help you choose just the right campsite for you and your family. 
Are you looking to get away from the hustle and bustle of everyday life? Our camping cabins are the perfect get-away for you and your family. Staying in one of our cabins is the best way to relax and enjoy the outdoors.
Camping cabins come with a double bed and bunk beds with mattresses. They also include a small refrigerator and microwave. All camping cabins have air conditioning, electricity in each room, smoke detectors, and outlets. You simply need to provide bedding and utensils. Outside each cabin is a picnic table, fire ring, water spigot, and a pedestal grill.
We have two camping cabins near the entrance and on the Old Taylor Lake. The other camping cabins are centrally located in the campground. All cabins are camping cabins have no kitchen (except a small microwave) or bathroom facilities. We have 2 two-room cabins (1 full bed and 2 sets of bunk beds) that will sleep a family of two adults and four children. We also have 5 one-room cabins (1 full bed and 1 set of bunk beds), which will sleep a family of two adults and two children.
No need to bring the camper or tent, we will provide a sleeping destination for you! So go rustic! Come and stay in our camping cabins and enjoy the peace and quiet you deserve at Smore Fun Campground in Waupaca.
We provide the opportunity for you to stay in a yurt. Are you asking yourself what in the world is a yurt? Well a yurt is an adaption of the ancient shelter used by Central Asian nomads.  How cool is that! The yurt is generally classified as a tent but it is much stronger and weather tight.
It is a 16' diameter circular structure with a skylight. It includes two bunk beds, a futon, table & chairs, refrigerator, microwave, ceiling fan, light, and outlets. The yurt also has an A/C and Heat unit. Outside you will find a picnic table, fire ring, and a water spigot.  At Waupaca Smore Fun Campground our yurt is a great way to experience the Wisconsin outdoors like never before, so come and try it out!